Magic and Mystery in the Garden
Posted on
There has been a lot of telly. I tried to structure lots of other activities but on some days it just felt like school work, cooking, eating, life admin and going to the same park was too much. And whilst we watched lots of telly we discovered Lego elves!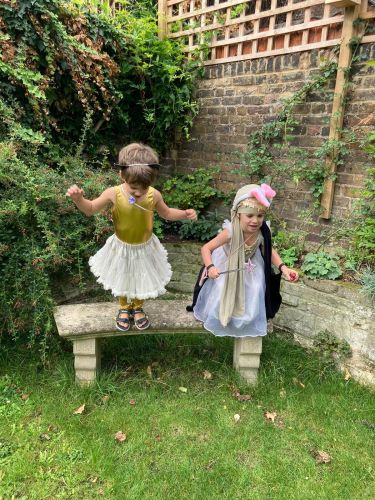 With access to an extensive dressing up box my boys were inspired! In gold unitards topped with either a tutu, a pinafore, a cloak; with feather boas, Christmas hats and cat whiskers the 'mummy chase me' game suddenly became more complex. Before I could catch them I was trapped in a magic portal: 'zaziiim!!' Or they had escaped into another world from me through another portal, carefully closing it behind them! A world away from their restricted everyday life? A better world?
Even before lockdown we had discussed whether we should buy a trampoline; friends kept asking why we didn't have a climbing frame, a swing, a teepee. But in the end having an uninterrupted stretch of grass on which to run up and down their imagination has been enough. I'm glad I was able to put my faith in it as I think they have come out the other side with so many more stories to tell!
By Eleonore, August 2020