Reception class at Coombe Road Primary access an Indian dress-up box to help them celebrate Diwali.
We have a vast array in child and teenage sizes too, starting with pre-schoolers! We can cater for many a popular musical or school play, and when we're not busy with Christmas and End-of-Year shows, there's always the Shakespeare in Schools Festival and the Let's Dance Schools' Celebration to keep us on our toes. Find out more about our costume collection...

Complementing this provision, our aim at Gladrags is to provide costume as an affordable and enhancing learning tool, pertinent to school subjects, activities, and key learning objectives. Worn by both teachers and pupils our costumes have enriched many a classroom topic, project, presentation or open day.

See our 'Shared Ideas' page to find out how other teachers have used our resources.
We offer historical costume, vintage garments and cultural clothing to suit most eras and countries, plus plenty more from animals to aliens, princesses to clowns. Perfect for a Stunning Start, we can kit out a range of key historical figures, from Cleopatra and Florence Nightingale to Henry VIII and Thomas Becket … and The Bard goes without saying!
Used imaginatively, our costumes and resource boxes offer a fresh and interactive approach to cross-curricula learning at KS1 / KS2 / KS3 levels. Common requests from schools include: Early Britons, Egyptians, Romans, Anglo-Saxons, Vikings, Tudors, Victorians & Evacuees, WW1 and WW2, Countries, Cultures, Circus, Fairytales, Superheroes and Space!
Schools benefit from our subsidised rates, £3 an outfit for members, £6 for non-members – see Costume Hire Prices for further details.
Download our Primary School posters for your staffroom:

Schools Members promo poster
Schools New promo poster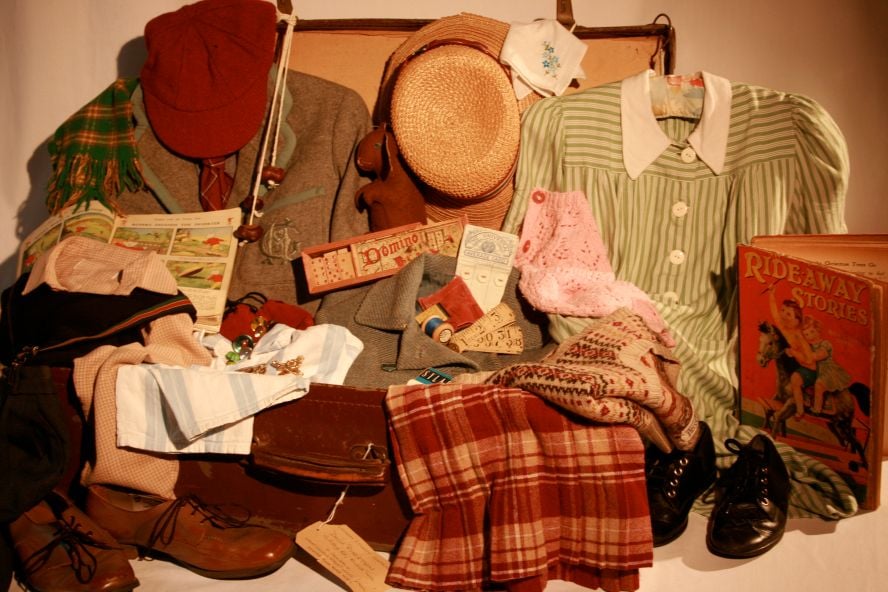 Evacuee Suitcase, containing items for one girl and one boy
Our Resource Boxes
Contain clothing, accessories and artefacts tailored to your specific project.
Inspire discussion, enquiry and creative learning and writing.
Complement role-play, hot-seating, freeze-framing, character work.
Contribute to increased understanding of a topic, text or subject matter.
Invite exploration of social and historical contexts of era, country or culture.

Resource Boxes are also priced keenly from £5 for members £8 for non-members. See Resource Box Prices.
We do appreciate how very busy you are, and as well as selecting costumes yourselves, you can simply order boxes for collection; give us your wish-list and we'll get it all together for you!
"Absolutely fantastic resource – the boy and girl suitcases brought the "evacuee" experience
to life. We sometimes forget that many items in those days really need a hands on approach
to get the real understanding of the time. The children loved the experience
and I would recommend it to others."
Teacher, Meath Green School
It is worth considering membership if you are likely to hire more than 25 costumes in the course of a year, as the hire will be even more cost effective. Membership is open to not-for-profit organisations, and schools and colleges as a means of receiving further benefits, which are:
40 -50% discount on costume hire and topic boxes (see Prices)
20% discount on educational workshops
free use of sewing and costume-making equipment
free use of library service, including loan of books
priority relating to use of costume storage service
any new services on offer


Members are consulted on our resources and service provision to help us make improvements, and invited to volunteer time and expertise to Gladrags as a way of contribututing to the organisation. There are no formal voting or related rights attached to membership.
"I regularly send my students to Gladrags to find costumes for their drama AS level exam performances. The exam requires them to source costumes themselves, which can be daunting, and I know they will be well supported at Gladrags to choose costumes that will boost their performance work. Because the students pictured could access the period costumes they needed they were able to really engage with their characters, notably in terms of mannerisms and movement."
Head of Drama, Cardinal Newman School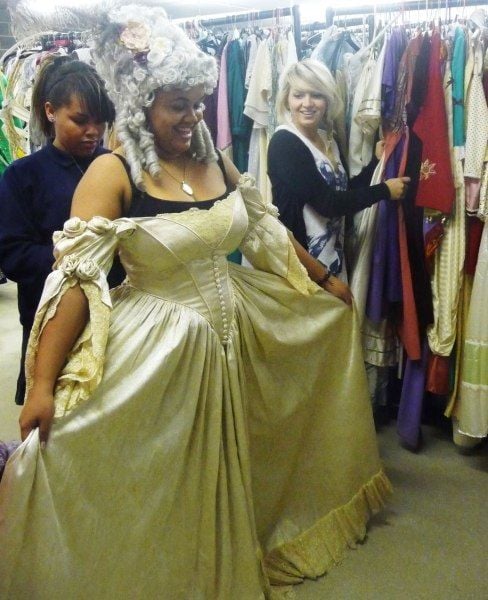 You can make your budget stretch further by becoming a member.

Annual membership fee applies and entitles you to at least 40% discount on all hires. Read more
Apply For Membership
You can download a membership application form here:
MEMBERSHIP FORM – SCHOOL
MEMBERSHIP FORM – COMMUNITY GROUP
Membership Form – Amateur, Fringe Arts
Membership Form – Independent, Higher Ed
Students from Brighton Met College select costumes