This is our Gladrags' Environmental Mission
to continue providing our accessible and affordable pre-loved costumes and apparel to the community.
to responsibly rehome surplus items and reduce the negative environmental impact of waste by providing a positive alternative to landfill; closing the circular fashion loop.
to educate and engender a wider culture of best practice around waste to the public by increasing societal awareness amongst our beneficiaries and customers about recycling, re-use and reducing textile waste.
Therefore, Gladrags tackles the negative social and environmental impacts of producing, consuming and wasting clothing, textiles and apparel by maintaining our commitment to: –
the use of second-hand clothing, costume and apparel
planet-friendly care, repair, redesign and repurposing of donated garments and textiles
providing people with reuse services to stop wearable clothes being thrown into the waste stream or left unused
putting wearable clothes back into use for hire in our store or for resale
contributing to closed-loop repurposing, whereby items that are surplus to our needs are gifted to schools and community projects
engaging our beneficiaries and customers in the gift economy, inviting donations from them of items that are unused or that may appear to them to be at the end of their life cycle
providing a storage facility for external costume collections, ensuring they are re-shared within our communities
promoting sustainable costume practice with costume design / making support, advice and free recycled materials
working with partners, logistics suppliers, and continuing to use ethical banking, phone and internet providers and a green energy supplier to help minimise carbon emissions in our supply chain through, for example, encouraging the use of back loading and efficient use of warehouse space
What we want to do next:
grow our rehoming scheme and develop a collaborative network whereby items are re-directed and re-used within aligned organisations. This will increase closed-loop repurposing and ensure a greater number of costume resources are recycled and put to use within Sussex communities.
expand our projects to boost our volunteer team's skills in sewing and repair techniques, which will increase our capacity to prolong the life of clothing, textiles and apparel.
absorb sustainable practice more cohesively into all volunteer education, training and roles.
actively share our sustainable costume ethos more widely within the professional arts sector, and influence positive change within the sector.
link our positive environmental impact into our hire services, through awareness raising on our hire forms, linking to our rehoming scheme, and sharing our ambitions to join The Million Tree Pledge.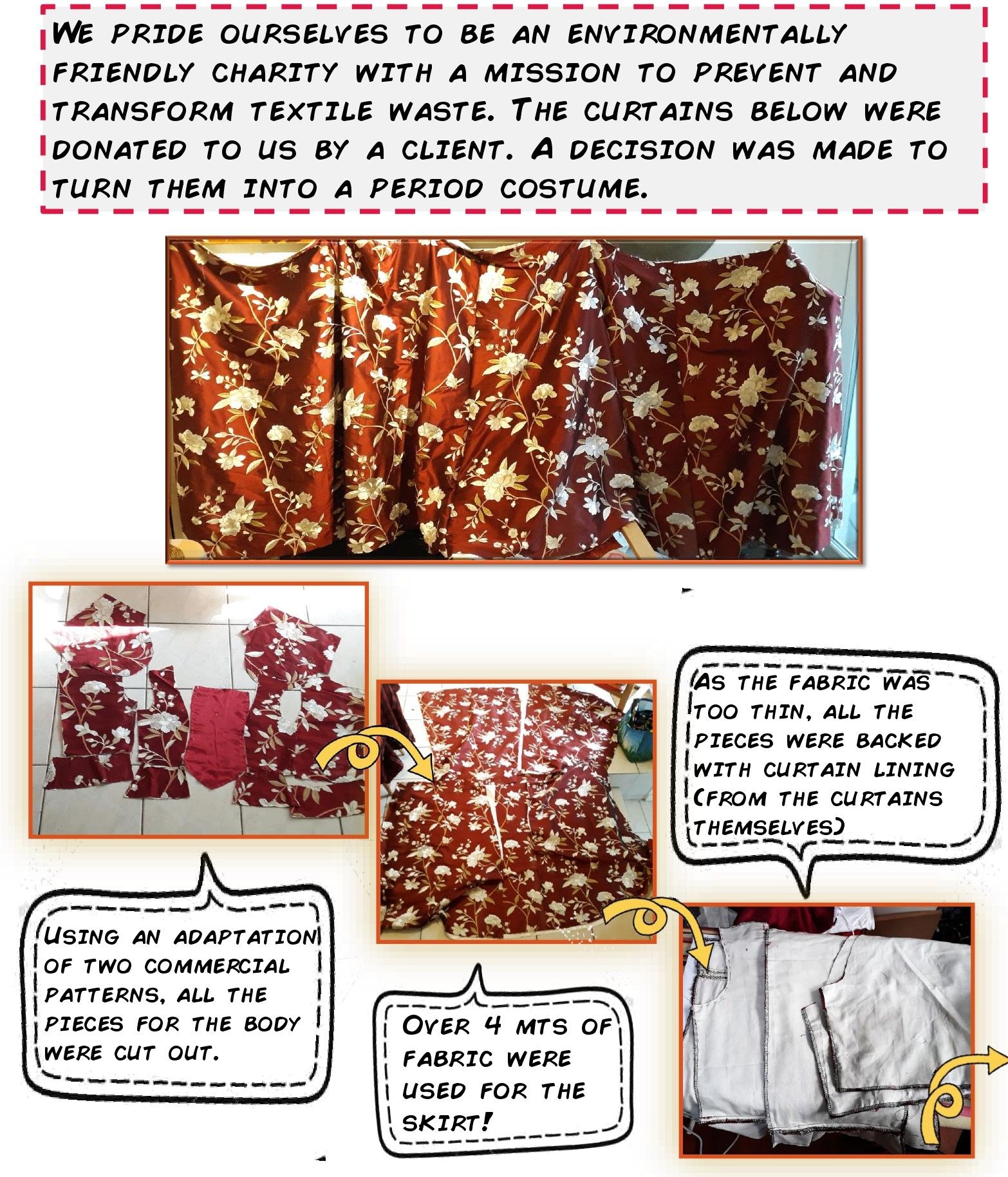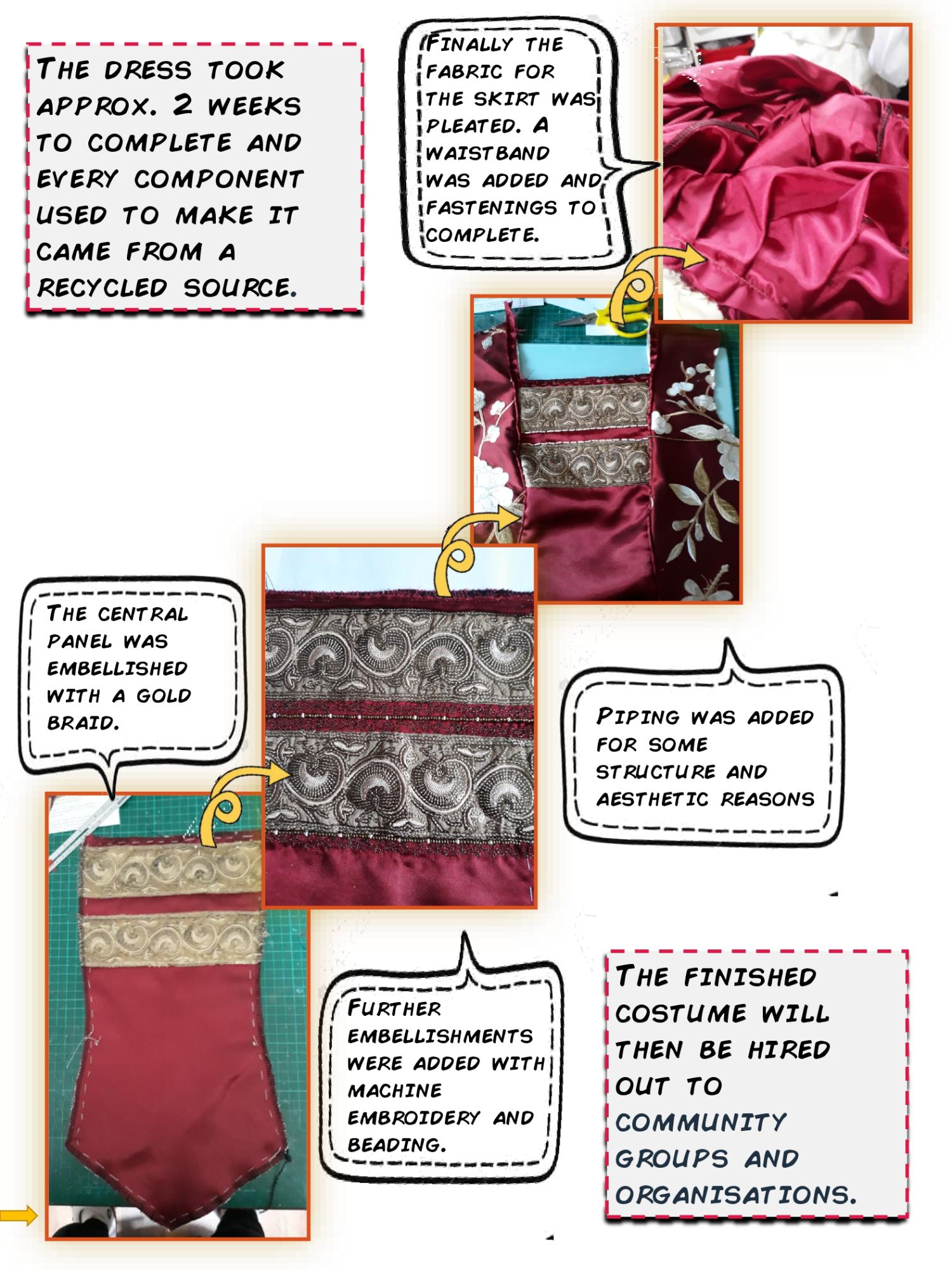 We understand that we have work to do 'on our patch' too and recognise that our direct impact on the environment primarily relates to issues around energy, material and water use by our core team in Brighton.
Therefore, we are committed to working towards: -
observing existing environmental legislation as a minimum standard and seeking to out-perform current legislative requirements where practical.
striving to minimise our energy and water usage, reduce waste and to minimise emissions from business travel.
And we know that working close collaboration with our community can make postive change therefore, we will continue to strive towards: –
reducing consumption.
reducing the overuse of increasingly scarce natural resources.
reducinging waste and carbon emissions.
extending the life cycle of wearable clothes.
supporting and championing the creation of a safe, fair and more sustainable clothing industry.
Since 1994 we have been working hard to achieve these goals, and as a small charity we are aware that we can only do our best. It's small steps but we feel it all adds up and we feel motivated to continue to make positive changes in everything we do.
If you'd like to know more about our work, we'd love to hear from you.