Create bunting flags at home using our FREE bunting template


Find instructions and tips here or join our Facebook group for info and inspiration


Come to our post-lockdown bunting party to help assemble the bunting
in a community celebration


Borrow the bunting for your own neighbourhood street party or other community event!

When restrictions are fully eased and we are able to come together again
in our communities, many of us will hope to celebrate the possibilities
within the 'new normal', even with the challenges we may face ahead.
Our project aims to contribute to this and give us all something hopeful to plough our creativity into.

ALL THE INFO YOU NEED TO GET STARTED IS ON THIS PAGE SO READ ON ...


JOIN OUR BUNTING PROJECT FACEBOOK GROUP OR REGISTER HERE BY EMAIL
We'll be able to contact you when we're ready to receive your flags and bring the bunting family together!
This easy project is accessible to all and can be done by hand or on a sewing machine.To take part we're asking you to:
make individual double-sided bunting flags – as many as you like and even one is a great. See instructions and template below.
use your own scraps and fabrics from home.
hold on to your flags until we get in touch, probably July / August.
add photos of your bunting on the Facebook group (or email them to us) so we can see how you're getting on and promote the project.
come to our post-lockdown bunting party if you can,
Schools: why not get your key-worker pupils involved or share the project with families to do from home?
Community groups: how about creating a sub-group within your own organisation? This could be an opportunity to take part in something collectively whilst still at a distance.
Get in touch here or via messenger on Facebook Gladrags Store. and your group can benefit from the festoons of bunting when this all comes together!
Bunting method and tips:
Please download and use our bunting template and step-by-step instructions so we have consistency in flag size or buy a bunting kit from Sew Fabulous.


Colours & patterns: any you like. Once collected, flags will be arranged as sets, from vintage feel to children's themes and everything in between,


Embellishments: you might want to embroider, applique or embellish with lettering, designs and crafting. Remember to keep the finished product light enough to sway in the breeze!


Best fabrics to use: light-weight non-slip fabrics such as: cotton, poly-cotton, poplin, light denim; old sheets, tea-towels and shirts work well and you could try dying or tie-dying these. If you're up for more of a challenge you might want to try sweatshirt jersey, viscose, satin, silk, lace, sequin or lame!


Fabrics that will be less effective or harder to sew: slippery fabrics, heavy wool, fake fur, stretch fabrics e.g. thin jersey, lycra. This is a great opportunity to use up spare fabric you have at home!



See our comprehensive list of Frequently Asked Questions below for further guidance.
is an environmentally friendly and professionally equipped community sewing studio based in Brighton Open Market. Their mission is to empower people of all ages and abilities to explore their creativity in a sustainable and conscious fashion. They offer sewing and textiles classes and as a not-for-profit social enterprise they do so with a sliding-scale of payment. They raise awareness about textile waste and organise action-based events around this.
Sign up for classes or find out more at Sew-fabulous.org
SewFabulous Facebook
is a unique, creative, eco-minded charity providing costumes to youth and community projects, schools & colleges, amateur & fringe arts. We resource activities that are educational, that entertain communities or that support wellbeing, and we subsidise all this by providing party outfits to the general public.
We run a re-cycling and re-homing scheme for costumes and fabrics and take our skills into the community, with sewing, dress-up and storytelling activities for children as well as reminiscence sessions with older people.
FREQUENTLY ASKED QUESTIONS
I'm not on Facebook - how can I join in?
Register above so we can stay in touch with you about progress of the project and announce the bunting party.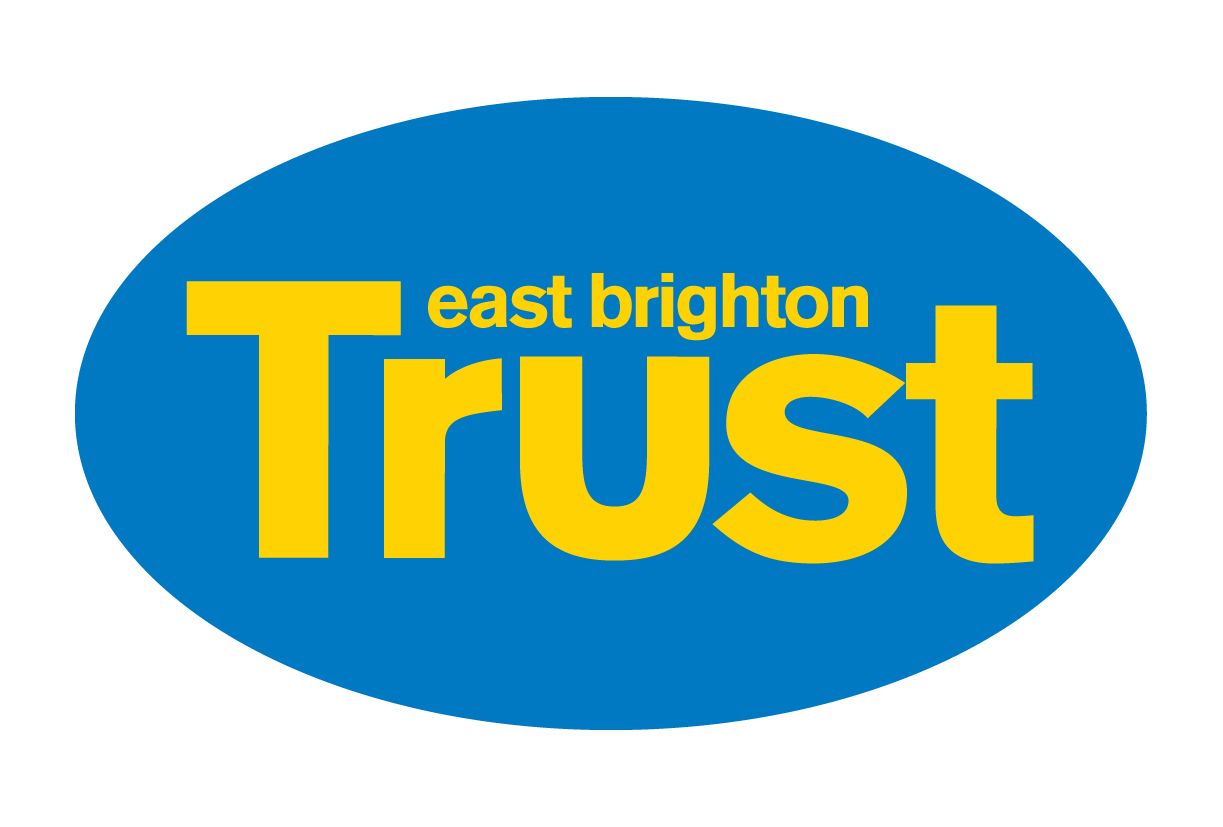 Thank you East Brighton Trust for funding this project
Does the fabric need to be the same on each side?
Using different colours or patterns of fabric is up to you. Using the same fabric type and weight e.g. two different coloured cottons will be more effective.
Does it need to be new fabric?
Absolutely not! Recycling and re-purposing old fabric is part of the fun.
Can I decorate my bunting?
Feel free to get creative and decorate your flags as you like. Remember that the top edge of the flag will be covered by the bias binding when the flags are joined together.
I don't have a printer, how can I access the pattern?
You can still download the bunting template and use the measurements provided to draw the pattern out yourself.
I don't have sewing scissors, can I use anything else?
Sewing scissors are best but sometimes a pair of sharp kitchen or paper scissors will work well enough. As the outer edge you are cutting will be hidden inside the triangle pocket it doesn't need to be a perfect straight line provided you have left enough seam allowance.
I don't have any sewing equipment but am keen to give it a go. Where's best for me to purchase what I need?
You will need fabric, pins, scissors, needles and thread. Try Ebay, Freecycle/Greencycle, Facebook marketplace or facebook group: 'Fabric - buy, sell, swap or give-away'.. Support your local businesses if possible:: Ditto Fabrics, Fabric Family or Closs & Hamblin. There are lots of fabric shops online e.g. Minerva Crafts has a massive selection and are still shipping promptly at time of writing.
Do I need a sewing machine?
No, the flags can also be made by hand sewing - just make sure the edges are strong enough to be turned out neatly into a point.
What is the seam allowance and why is it important?
This is the width of fabric 1cm out from the edge of the bunting triangle, indicated by a dotted line on the template. The seam allowance ensures you have enough space (1cm) between the fraying edge and the sewn edge so that you don't end up with holes along the seams of your flag. To ensure you have seam allowance you can either:
cut your template and fabric to the size of the dotted line and stitch 1cm in from this, along the solid line of the bunting triange.
additionally cut a template of the inner bunting triangle to mark it out on your fabric too. This will be your stitch line.
I don't have bias binding, can I sew all my flags together already?
We would prefer to receive individual flags so we can bring together lengths of bunting that blend well and may even be organised according to themes. We would love you to join us in bringing our bunting families together.
I don't have fabric to use, can I get some sent?
You can buy a Sew Fabulous Bunting Making Kit which includes hand picked up-cycled fabrics, pattern and instructions. Try the Bunting Project Facebook group for offers of fabric. If you don't have access to Facebook please email us.
If you are organising a bunting activity within your school, we recommend that you use existing and untouched fabrics within your school building to avoid cross-contamination of fabrics arriving from outside the premises.
How do I make sure it's safe to use someone else's fabric?
If you pick up a bag of fabric from someone else, consider cross-contamination carefully. Do not open the bag and use gloves to handle it. Once home, put the bag where it won't be handled by others and leave it for 72 hrs before opening it to handle the fabric. Wash the fabric before use.
How will you make sure you handle bunting flags safely?
When we are ready to receive flags, we will get in touch with you. Based on current information this could be sometime in July / August. If there is still even a low considered risk of cross-contamination, we will wait 72 hrs before handling the flags and the bags / parcels they arrive in. We will work as a small team to organise flags and in a socially distant and responsible manner.
I have had fun with this, how can I do more projects like this?
Check out Sew Fabulous Facebook for free online sewing tutorials and www.sew-fabulous.org for sewing and textiles classes for all ages and abilities. Sew Fabulous is a not-for-profit social enterprise and offers a sliding-scale of payment.
Where and when will the bunting party be?
The party will take place in Brighton and in line with government guidelines regarding the easing of restrictions and with social distancing measures in place as needed. Based on current information this could be sometime in July / August. We will be in touch with you all once the situation becomes clearer.
What kind of events will use the bunting?
A Sussex-wide resource, the bunting will be available for free community street parties and outdoor events; indoor celebrations as permitted by government guidelines; celebrations in and around the premises of key-worker institutions such as surgeries, care homes, schools and other public services; fundraisers relating to the impact of Covid-19.
We hope to have several sets to offer so that there is plenty for everyone.
Can I borrow the bunting for my post-lockdown celebration?
Yes if you are involved in a community event like the ones we have described, we would love to loan you the bunting.
Where will the bunting be stored and how will it be accessed?
The bunting will be stored at the Gladrags Costume Store in Moulsecoomb, Brighton. Gladrags will take bookings and request a deposit, refundable upon return of the bunting loaned. Bunting will need to be returned in the same condition as taken, meaning probably giving it a once over with the iron.
What will happen to the bunting when the celebrations are over?
The bunting will remain at Gladrags and be hired out at nominal cost to our beneficiaries (e.g. community groups, schools and charities) and higher rates for private use. It will therefore have continued use, be repaired and maintained by our volunteers, and help to bring funds into our charity.
I've another question not answered here - who do I contact?
You can post a question for general discussion on the Bunting Facebook Group or use messenger for a direct message via Gladrags Costume Store Facebook or email us here.